Grey Water Solutions – Realizing the potential of greywater
Awarded for
GWS established a low cost stand-alone solution that reduces water use by 25 %, reusing greywater in a sustainable way.
---
Company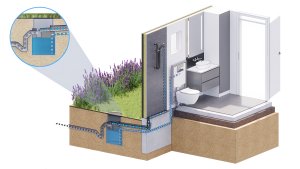 GreyWaterSolutions is a Danish start-up that started ind 2019. The company works with changing the mindset about greywater. Greywater is not something that needs to go til the sewer and out. It can be recycled and the heat in it can be recycled. Therefore the company works with the stand-alone system. It has also started developing central systems and sewer heat exchanger.
---
How the innovation was invented
During the construction of some apartments, GWS noticed that even on new apartments, the greywater was just running down the drain and out as blackwater. The idea was born: Why not recycle this greywater for something? After some water quality testing GWS found out that there was a dirty and a clean part of the greywater. The company then developed a sensor that could detect the water quality, thus using significant parts of the greywater for flushing water.
---
Benefit
The solution is a low cost stand-alone solution that reduces water use in an average household by 25 %. That is aprox. 10.000 liters per person and year. Because GWS only recycles the clean part of the greywater, they are able to clean the water without any chemicals. All filters can be cleaned with some water and a brush. This is a giant step to more sustainability. Last but not least, because the greywater is inside the house and not under pressure, the GWS solution can reduce the energy consumption for pumping by 73 %.
---
---
Contact

GreyWaterSolutions
Morten Vestergaard
Rosenvænget 2
8541 Skødstrup
Denmark
Phone: +45 40569625