DECARBONISING the digital world
Reducing the Carbon Impact of Digital Products and Services
GoCodeGreen is a 2 year old ClimateTech business focused on measuring and identifying
actions to reduce the carbon impact of digital products and services. Our mission is to
decarbonise the digital world in we all now live. We are using innovation in technology for
good. We are a technology and data company and we are creating transparency in an
area that has been characterised by greenwashing. Our platform is built to generate
action, and we believe we can help the ICT sector to become a world leader in
decarbonisation.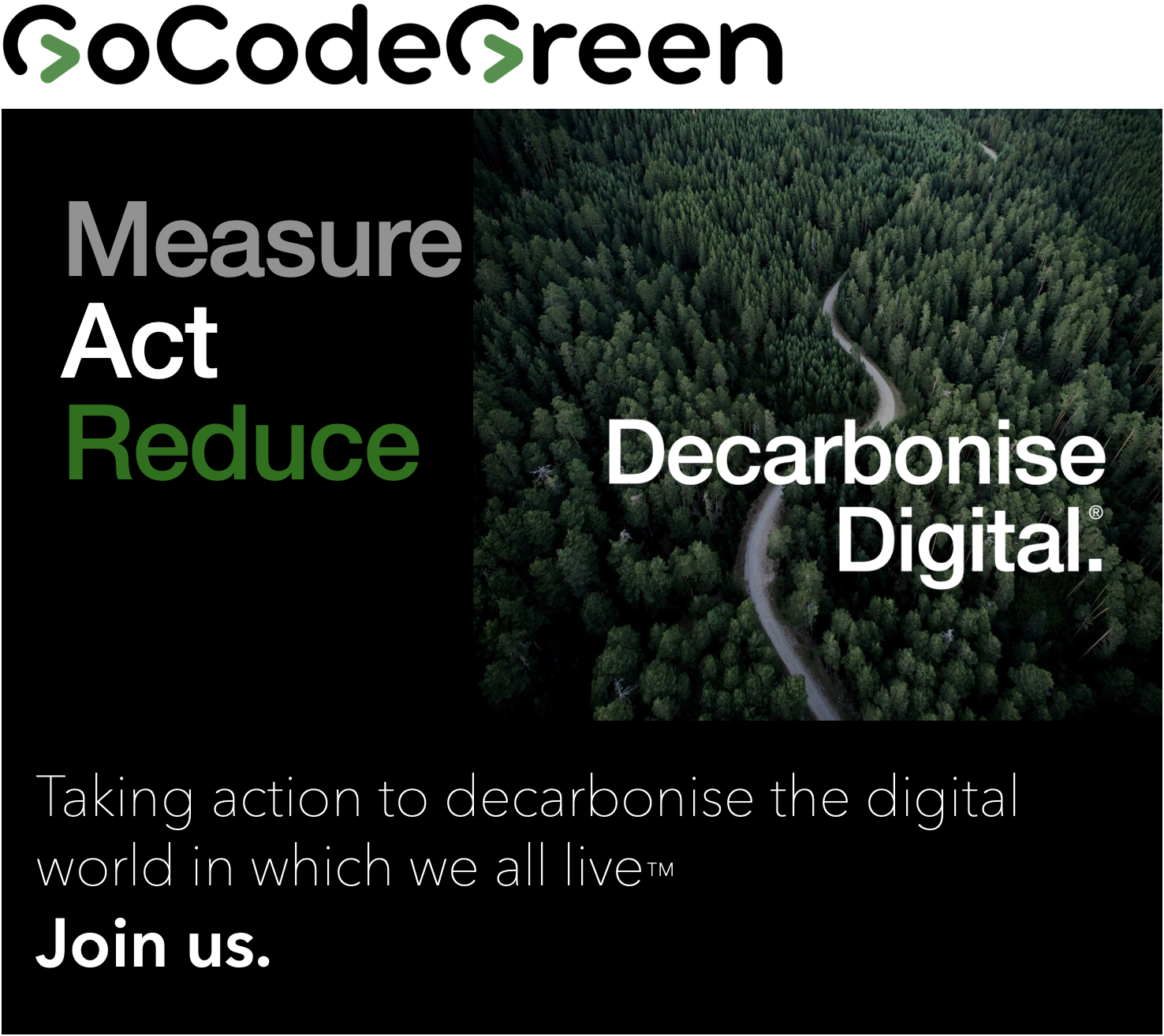 HOW THE INNOVATION WAS INVENTED
It all started with a need. Whilst building a new digital solution for a financial services organisation we had the idea that we should try to build it as the cleanest software product that the client had had ever seen. To do that we needed a measurement capability that could accurately assess the carbon impact of software, but after searching the market couldn't find one. As  GoogleBrain Award winners with decades of software design and build experience we decided to attempt to create the tool ourselves. It started as an experiment but as we progressed it became clear that the core solution would not only measure but also identify actions to reduce carbon impact. Over a year later our prototype did exactly what we originally wanted and has become the catalyst for numerous product extensions that will now allow us to help create a sustainable foundation for future technology growth.
Benefit
We created GoCodeGreen with the vision of making it the company we have always wanted to work
for. A company centred on the diversity of its leaders and inspired with a purpose to use technology
for good. By doing so the very core of what we do, our DNA, is based on creating a difference in our
ability for technology to contribute in the fight against climate change. At the outset, we also were
determined to support the next generation of coders, to help them and equip them with skills and
understanding to be able to make the next wave of technology better than the past.

Our mission to decarbonise the digital world in which we all live, and to remove a minimum of
1,000,000 tonnes every year to 2025 and double that until 2030 is what drives us every day. We have
invested in building a 3 stage learning experience for developers taking them from foundation through
to techniques and applied learning, and we have just signed a partnership with CodeClan, a not-forprofit
education organisation, and committed to providing 50 of their next student cohort with free
access to our training. It may feel like a small step, but it is a step that we have worked incredibly hard
to create alongside building our measurement product and going to market.

Our work with universities across the UK are also a demonstration of our commitment to invest in the
next generation, and sharing the mission and purpose with new technologists to inspire, challenge
and support them (we have 3 graduate interns over the summer of 2023) in ways that stretch
ourselves in time and financially are an indication of our broader intent as our business grows and
becomes more successful.
GoCodeGreen

314 Regents Park Road
London N3 2JX
United Kingdom
Phone: +447527449379
Email: Eric.zie@gocode.green
Website: www.gocode.green