Ultra thin and flexible Solar Panels
Light and flexible photovoltaic panels - foldable and with a thin surface
Solar Cloth has developed an innovative process, described as a technological breakthrough by the Capenergie (French competitiveness cluster).
This ultra flexible solution concerns five main markets: 
– Mobility • Military and civilian trucks (Renault/Volvo Arquus), trucks trailers and smaller vehicles
– Agricultural greenhouses • Richel/Toutabri
– Outdoor • Tents (Huttopia) and Metal-textile structures (GL Events)
– Military • Trucks, tents, drones
– Nautical industry • Racing and pleasures boats
The first buildings will be equipped during summer 2023; Nice Airport (light metallic roof) and greenhouses of Cannes (glass roof).
Solar Cloth panels will be equipped with French CIGS cells within 2 to 3 years and its innovations are supported by several patents in addition to numerous awards and partnership (e. g. CNRS, IPVF, ADEME)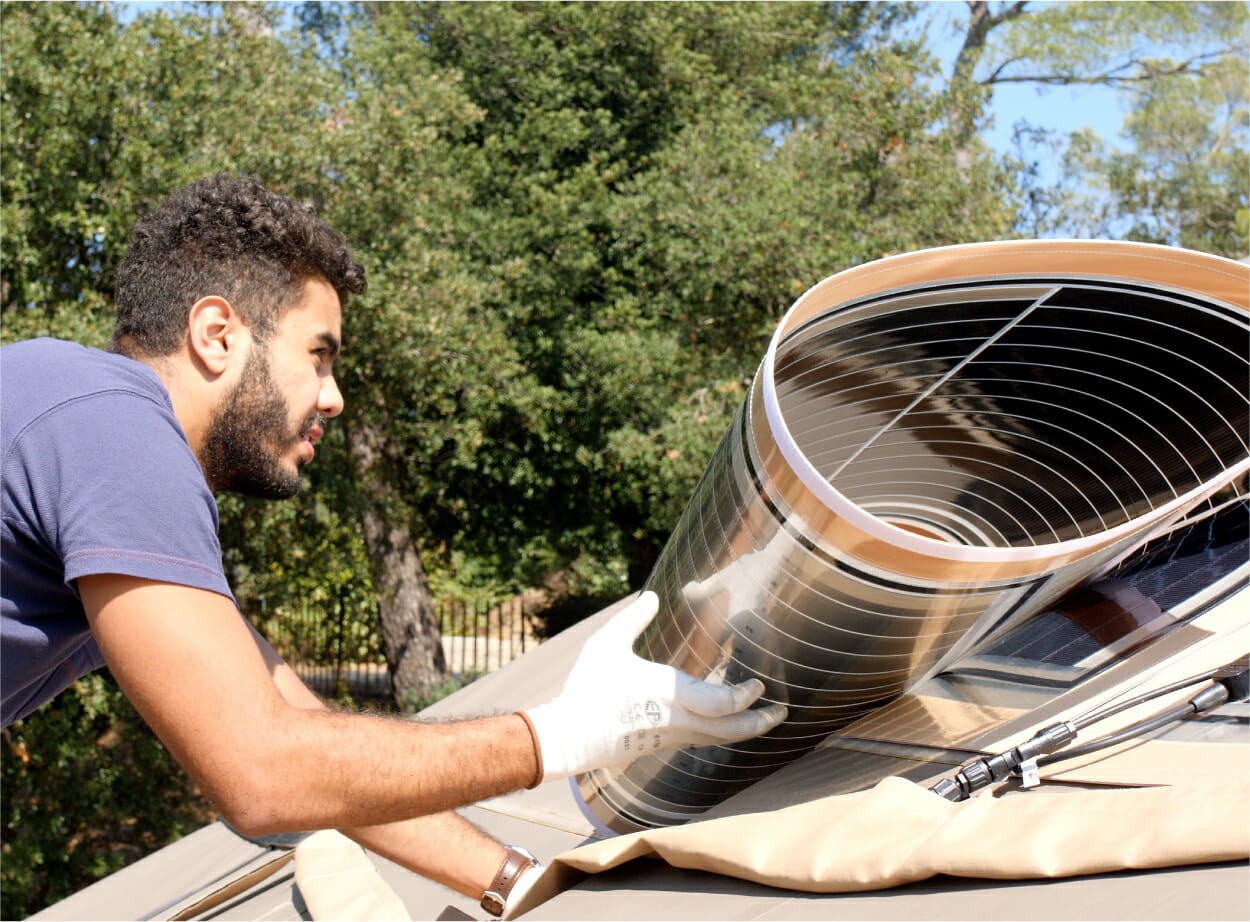 HOW THE INNOVATION WAS INVENTED
Solar Cloth was born from the idea of creating and integrating photovoltaic modules within a boat sail. The founder of Solar Cloth also owns a sail maker, which facilitated the R&D and this is where our expertise in textile matters and complex fastenings comes from.

Having successfully integrated this into a mainsail, panels have been tested around the world on boats (Vendée Globe), by the Army and other customers, as well as receiving various awards. It was after this stage that we realised we had a product ready for many markets.
Benefit
Solar Cloth photovoltaic modules are meant to be installed where conventional panels are not an option such as textile areas (tents, textile buildings, vehicles, greenhouses, trucks etc.)
In addition to our key assets:
– CIGS cells (Copper, Indium, Galium, Selenium) at 17,6% efficiency (vs 18% to 22% for conventional panels)
– ultra low carbon footprint (15gr of CO2 per kWh – i.e. 3 times lower than conventional panels)
– shock and shadow proof (thanks to 16 times more bypass diodes than conventional panels)
– resistant to vibration (on vehicles or while being moved)
– custom-made (any size, shape or fixation) and no solvant in the preparation