PURPLE Alternative Surface – permeable and eco-responsible road surfaces
Awarded for
PURPLE Alternative Surface makes roads permeable in an eco-responsible manner and thereby prevents soil artificialization.
---
Company
Purple Alternative Surface is a company that as for mission to the save the world from plastic waste. It is a start-up that has created the first permeable, ecologically responsible modular paving solution made from non-recycled plastic or composite materials. They are equipped with a research laboratory to carry out all the material tests in order to broadening the spectra of waste that would be recyclable with our technique. Thanks to an innovative process, the company is positioning itself as a pioneer in recycling all types of plastics and composites (except PVC). They have obtained the AFNOR Circular Economy label and have just been awarded Efficient Solution Label by Solar Impulse.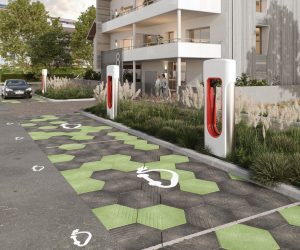 ---
How the innovation was invented
The idea comes about Sébastien Molas and Pierre Quinonero. The two founders have been involved in environmental issues in the construction industry for many years. Their objective was to find solutions to fight against soil artificialization by making roads permeable in an eco-responsible manner and compatible with increasingly stringent environmental regulations. We want to save the world from plastic waste, help reduce CO2 emissions and allow water to seep into the groundwater to prevent drought.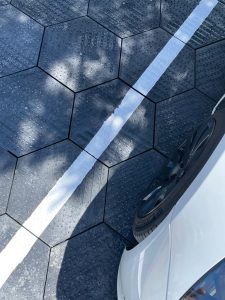 ---
Benefit
The companys' solution contains three solutions in one. First: It allows water to flow directly back into the phreatic table (2200l/sec/hectar) and includes surfacic retention. Second: The product is sustainable designed without using natural ressources and from plastic waste and composites (until then incinerated or buried).  Third: It is a low carbone solution: 3,35 tonnes of CO2 saved every three parking spaces.
---
Contact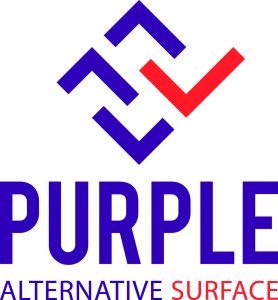 PURPLE Alternative Surface
3 Rue Marcel Pangon
F-90300 Cravanche
Phone: + 33 (0)3 84 22 32 26
https://purplealternativesurface.com