NewGreenTec – Hybrid wind-solar Power Plants for more efficient renewable Energy Generation
Awarded for
NewGreenTec invented an easy-to-install hybrid wind-solar power plant, a plug-and-play and all-in-one system.
---
Company
NewGreenTec Int. AG is a small startup company run by six experienced engineers and other talented people. Everyone is highly motivated and convinced that they have the best products for a huge and fast-growing market. They have developed the products and invested time and money to be shareholders of an innovative and promising young company providing technology for a better and cleaner planet. The company is part of the Switzerland Innovation Park Zurich and has received awards in several competitions, including one from Bertrand Piccard in the Solar Impulse program.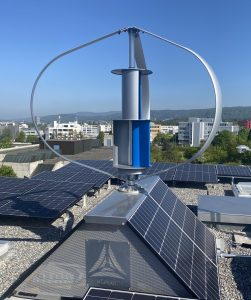 ---
How the innovation was invented
NewGreenTec noticed that more and more people wanted to generate clean electricity themselves. Solar energy is only generated when the sun is high in the clear sky and not at the times when the energy is needed, at night, in the morning, evening, or in winter. In Europe, ¾ of solar energy is produced in summer, ¾ of wind energy in winter. These sustainable resources complement each other perfectly. These insights led to the motivation to develop an easy-to-install hybrid wind-solar power plant, a plug-and-play and all-in-one system to connect it to the buildings to supply sustainable electricity from renewable resources and enable everyone to use wind energy.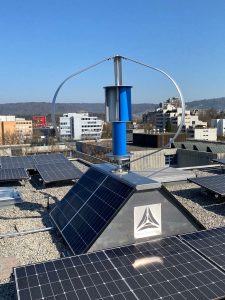 ---
Benefit
The PowerPyramid™ and EnergyTower™ can be placed in the smallest of spaces on any rooftop or adjacent to buildings to generate clean power for long periods of time, day or night, in any weather, any time of the year. The vertical-axis twin wind turbines are independent of the wind direction and resistant to gusts and turbulent air currents. The vertical solar panels allow high efficiency at low sun angle, avoid being covered with snow and dust, and reduce the footprint. These require no foundation or anchoring.
---
Contact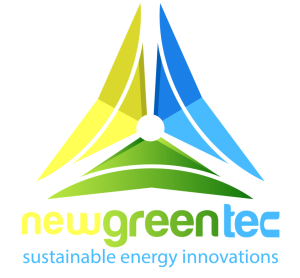 NewGreenTec International AG
Sonnentalstrasse 8, Postfach 232
CH-8600 Duebendorf 1
Phone: +41 79 300 5008